4 min to read
The Lost Metal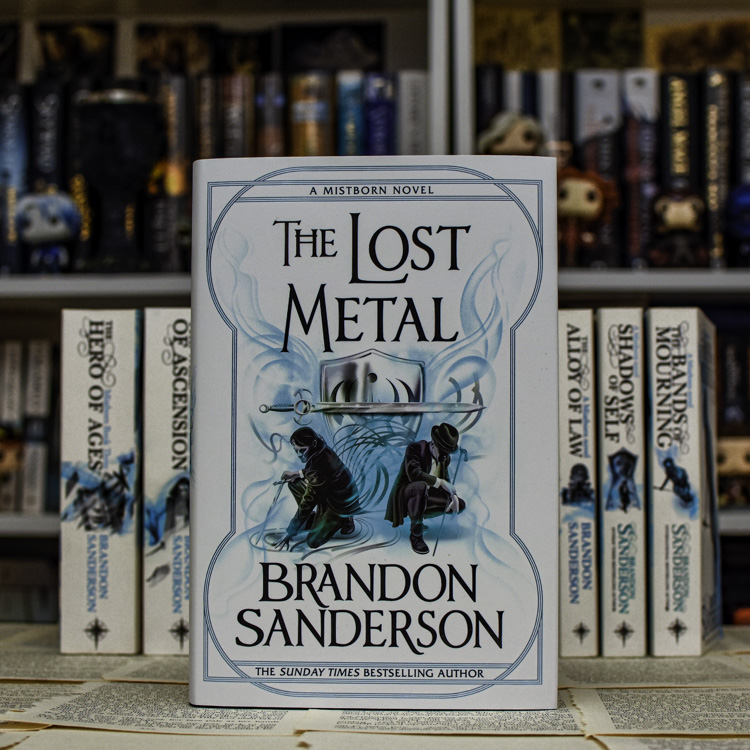 Tytuł

The Lost Metal

Autor

Brandon Sanderson

Data premiery

15.11.2022

Wydawnictwo

Gollancz
"The Lost Metal" is the fourth and the last book in The Mistborn Saga (Era Two) series by Brandon Sanderson. I don't think the series needs any introduction for the fans, as if you haven't read any of those books, I suggest you start at the beginning. That said, this review might have some minor spoilers for previous books (as it would be impossible to avoid them, as the world in Era Two is a direct consequence of the end of Era One). There will be no spoilers for "The Lost Metal", so if you are up to date with previous books, you can read on!
The first surprise was that the book starts six years after the dramatic events of "Bands of Mourning". Like, wow, that's a big time skip. But just a couple of pages in, and I loved it. Elendel made significant technological progress during those years, and so did all the characters. Wax is working as a senator, and he and Steris have two little children, while Marasi and Wayne are constabulary partners and work tirelessly investigating crimes. The Discovery of the whole new south continent caused many troubles with delicate political relations but also opened new trade roads helping with Basin's technological progress.
But all their seemingly peaceful existence is shattered when Marasi and Wayne find one of the Set's bases, discovering traces of a plan that could endanger everyone in Elendel. Wax once again put on his Mistborn duster and joins his friends in a perilous mission to Bilming (another city where most of the action takes place).
"The Lost Metal" was my most anticipated release this year, but I was also a bit apprehensive since the ending of Era One was my all-time favourite and mind-blowing story's end. So, Era Two has a lot to live up to. But, oh boy, Sanderson always delivers the highest quality we expect from his books and adds some more. This book has everything. The most fantastic steampunk vibe with inventions like cars, electricity and skyscrapers; a twisted chase after a cunning criminal organisation; the dark god looming in the background and so many crossovers from other Cosmere worlds it will make your head spin. For those who are up to date with most of Sanderson's books, it's a cherry on top. The connections between different worlds are just crazy and to think that the author had planned all his books with so many interdependencies between them is mind-blowing.
And then there are the characters. The Era Two crew completely stole my heart. Every single one of them is so well-written and unique with their quirks and shortcomings that their final arcs in the Lost Metal were delightful. Every single one of them. My favourite was always Wayne, joined by Steris since Bands of Mourning. They were both stars in this book. They never failed to make me laugh, and I don't think I ever laughed so much reading a fantasy book. But under all the jokes, they are deeply vulnerable people who worked all their lives to put up the barriers around them, preventing them from getting hurt. In "The Lost Metal", they are all challenged to the point of breaking, and they need to confront their deepest fears and faults to prevail.
I bet you wonder if the end of Era Two lived up to the previous one. It didn't blow my mind as much as "The Hero of Ages". But I also need to mention that Mistborn Era One was one of my first Sanderon books. Since then, I have read most of them and know much better what to expect. In my opinion, the ending of "The Lost Metal" was perfect for the story. Did it break my heart? Yes, repeatedly. But I learnt to expect nothing less from Sanderson (damned author knows exactly where to push to make you feel all the feels). It was a perfect amount of bittersweet, and the Epilogues showed us a glimpse of what is to come in the next era. I absolutely adored this book. I was a bit apprehensive of the whole steampunk western theme of Era Two, as I'm a huge fantasy fan, but I loved every single book here. That only proves that whatever Sanderson writes, I will instantly love. It's just how it is for me and all the other fans. I hope you all had your copy preordered and have it already in your hands, waiting impatiently to drop everything and read it!
*****