2 min to read
The Flower Path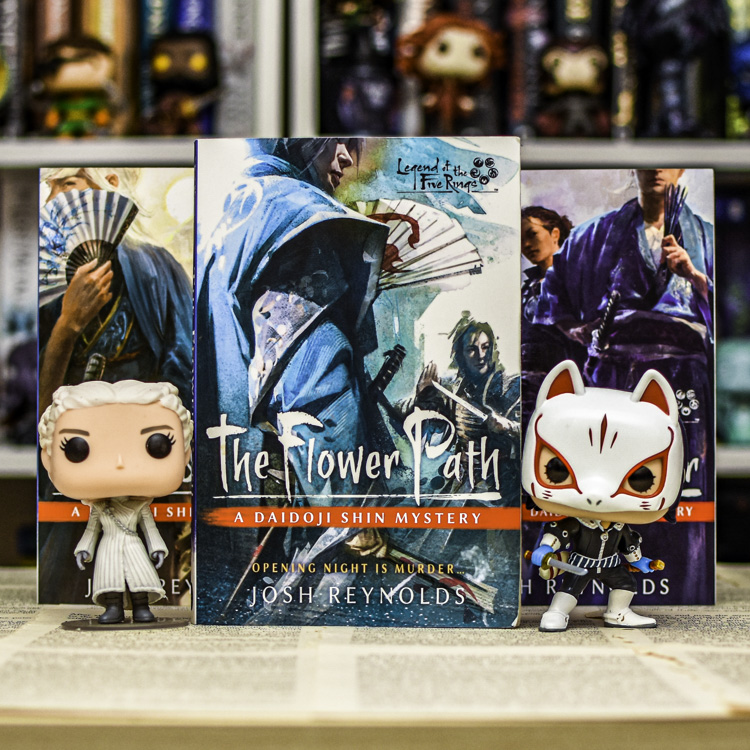 Tytuł

The Flower Path

Autor

Josh Reynolds

Data premiery

21.06.2022

Wydawnictwo

Aconyte
"The Flower Path" is book three in "A Daidoji Shin Mystery" series by Josh Reynolds based in the universe of The Legend of the Five Rings. I'm always happy to dive into another adventure with Shin as a protagonist. He is such a fun and complex character to read that each story is a pleasure.
This time the author serves us a classic whodunit tale. The affair starts in Foxfire Theatre, which Shin acquired in the previous book, and the grand opening night is supposed to decide whether this venture would be successful. But the stakes become even higher when the show's leading actress collapses on the stage. The verdict of Shin's medic is clear – poison. It should be easy to find a person who held a grudge against the famous actress. Still, the woman antagonised every other actor and left a trail of broken hearts among many prominent nobles from various clans. And most of them were attending the play.
Shin is tasked with the seemingly impossible task of discerning who amongst the actress' many enemies might be determined enough to get rid of her for good. He's also constricted with a concise time frame, as there would be no way of finding the perpetrator once the performance ends.
I enjoyed this book, primarily because as two previous books seemed loosely connected, this time we had the whole Three Flower Troupe back, and it was nice to see the well-liked characters again and learn more of their stories and secrets. Shin and Kasami were brilliant, as always, but I was pleasantly surprised by Konomi, a noble from the Unicorn Clan, whose dynamic with Shin was fun to read. I hope to see her in the next book and see how their friendship evolves.
The resolution was satisfying and not what I expected, which was a pleasant surprise. I also like the story's pacing, the slow clues gathering and the twist at the end. Once again, we learn a little bit about the dynamic between different clans in Rokugan and seeing Scorpion courtier in action, especially clashing with Crane, was highly entertaining.
I think "The Flower Path" is a book many people will enjoy. It doesn't matter if you are familiar with the Legend of the Five Rings fandom; if you want whodunit mysteries and dramatic theatre setting, I'm sure you'd devour this book in a couple of hours.
****